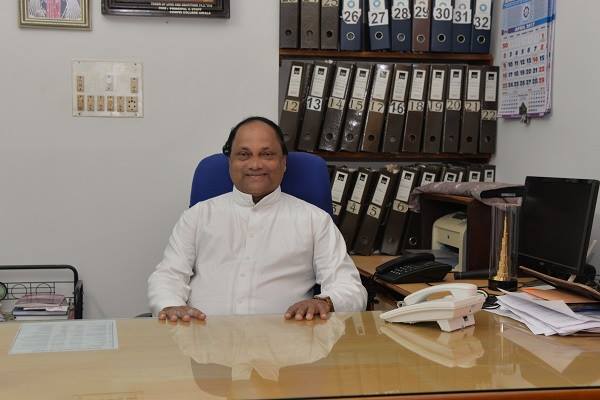 Message from the Parish Priest
I am happy to meet you and greet you through the Surathkal Parish Website. At the outset let me wish you all a very happy Easter. May the Risen Saviour bless you and your families with peace and joy.
Surathkal Parish dedicated to the Sacred Heart of Jesus was founded in the year 1900 People of Surathkal have great faith in the Sacred Heart of Jesus and they have great devotion. The Parish is situated within the corporation limit.
Last year in the month of June our Bishop through the decree has formed Surathkal as the new deanery with four other Parishes. It is the centre of the Varado. Hence lot of Varado meetings are held here, as it is very convenient to all.
It is a vibrating Parish Community. We have 18 Wards with 600 families. The Parish has been growing and developing through the Small Christian Community. Small Christian Community is becoming stronger in all the Wards. The number of attendance for the ward gathering and the service activity is on the increase. Number of Spiritual activities are held for Parishioners and the people attend these with enthusiasm.
People in the Parish are well educated and most of the people are employed in the neighboring companies. We have many businessmen in our Parish. Many of our Parishioners are at Dubai and in many other gulf countries. I had an opportunity to meet my Parishioners at Dubai as a family. I had good and friendly interaction with them for which I am grateful to them.
The website of a Parish is a great help for wider connectivity. Usually the Parishioners have Sunday connectivity for one hour as they meet on Sundays for the Mass, and every month in the wards for one
hour as they meet for Small Christian Community gatherings. But the website of the Parish has 24 hours of connectivity any time and any place. We come to know about the programmes held in the Parish, the
events, the Birthdays, news about the Funeral. We can share our experience in the same.
When we think of the Parish, we think about it as the Parish Priest centered. It is he who makes the announcements on Sundays. But in the website all the people have access. We can have news reports,
videos or photos of the events. Eg. We come to know about the Holy Week celebration by seeing the photos, even if we didn't participate in the same. So let us use the website and know the Parish. Let us
contribute for the website and keep it growing. Thus let us strengthen the Parish bond.
Thank you, V. Rev. Fr. Paul Pinto
God bless you Parish Priest