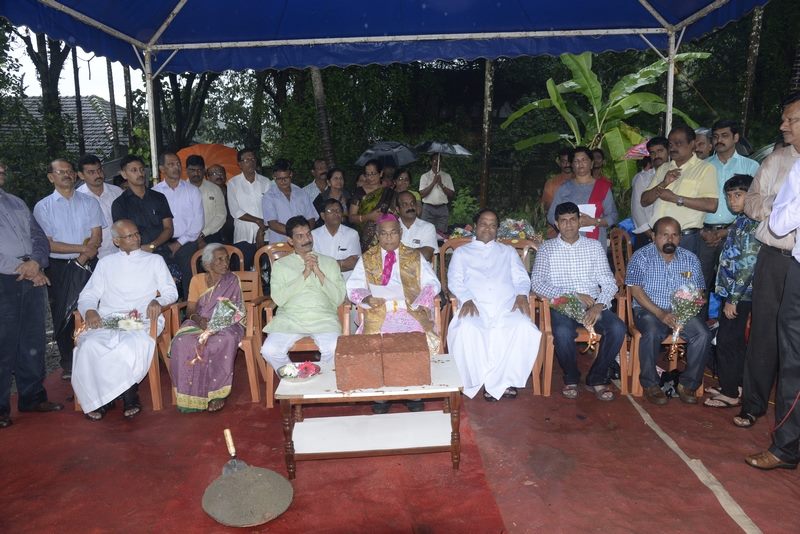 Laying foundation stone of Sabha Bhavan
1Corn 3:11-"For no one can lay any foundation other than the one already laid, which is Jesus Christ".Truly many years dream is coming true today as the Almighty permits to lay the foundation stone for the Sabha Bhavan in the hands and solemn blessings of Most Rev.Bishop Aloysius Paul D'souza under the guidance and able leadership of Sacred Heart church 's Parish Priest Rev.Fr.Paul Pinto in the presence of all the dignitaries and the parishioners .
The chief guests for the occasion were honourable M.P Mr.Nalin Kumar Kateel ,D.k, Mangalore MLC Mr.Ivan D'souza.
Our Local Corporators Mr.Gunakara Shetty graced the occasion.
From Dubai, ESPA president MR.Vincent Misquith,Architect and Engineer of the Hall; Mr. Lawrence Cutinho and the Ever Donator Mr. Robert D'souza 's mother Mrs.Alice D'souza also graced the event.The Parish council 's vice-President Mr.Dony Suvares, the Ex-vice-president Mr. Peter Alex D'souza, Secretary Mr. Bernard D'souza , all the parish council members and all the parishioners witnessed the event. The programme was compelled by Mr.George Ligory and vote of thanks was presented by vice-president Mr. Dony Suvares.